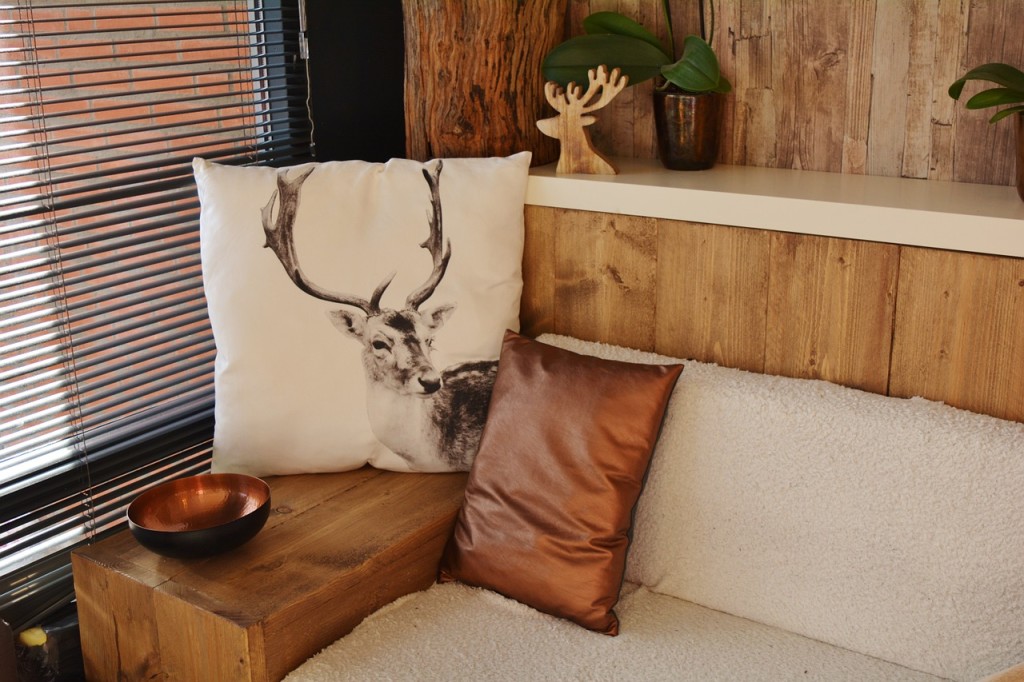 Over the years, homeowners are continuously upgrading and improving the aesthetics to their property.
The interior improvements have the potential to enhance the style with class and elegance in every room. Simple ideas in a variety of areas such as lighting, window treatments, and decorative accents are great places for changes.
Lighting and ceiling fans
Chandeliers come in a vast selection with each adding a special ambience to any room. The placement of them adds a dramatic effect.
Depending on the budget, consider crystal ones that are located in the main entrance or foyer area. Dining rooms also showcase these spectacular pieces.
For a more modern appeal, look for chandeliers that have texture including wood, leather, satin, and velvet inlays. Take this concept further with shapes that are a layered or cascading design.
These can be used in any room of the house. Unique lamps of the table or standing variety also make a bold statement.
Ceiling fans are not what they use to be. The designs have specialty lighting and bamboo or other accents. They are made to accommodate most ceiling architecture including vaulted and cathedral.
An added benefit is the energy efficiency with lower utility costs. Most brands are affordable and can be found in the inventory of major retailers.
Both of these ideas are do-it-yourself projects. However, finding a professional installer should be easy.
Window and door treatments
The portals of our homes provide ideal options for an interior design make-over.
Window treatments come in a diverse collection of materials and functionality. According to Sunburst Shutters in Las Vegas, plantation shutters are a classic example of elegance that suits any decor.
They come in a variety of colors, textures including fabric, or in a shellacked native wood. The aesthetics they add to the room will inspire residents and visitors alike. There are different shapes for arc, bay or box configurations.
Innovation has taken hold in this area with the installation of window film that reduces harmful UV rays as it keeps homes cooler. These choices can be included for use with doors. They will be in the form of mini-blinds made of fabric or wood.
Decorative accents
For an instant facelift in any room, pick paints and wallpapers that stand out. This does not mean it should overwhelm the overall theme.
Focus on highlighting with subtle pallets that have rich tones, or if the personality of the room can handle it, go bold with dark, vibrant colors. Use wallpaper strategically, as well as painting one wall a contrasting yet complementing color.
Pillows are an affordable touch that comes in a vast array of shapes, colors and textures. Go for the rare features such as leather, sequin, and tassels. Mix and match shapes with bolster, box, flange, and others.
Use the large designs that can be placed on the floor for a casual decorative feel.
Paintings that are originals or prints add an artistic classiness that sets the tone to many conversations. Use creative display ideas such as antique easels that are both large and small. Place them in focal points of the room that need some panache.
The walls were the start of this section, but flooring will end it. There are opportunities to make small changes such as with oriental rugs or replacing the current flooring altogether.
For example, if you have carpeting, change it to Berber or cut-pile. Another possibility is to remove the carpeting and use the hardwood underneath. Consideration can also be given to ceramic tiles that come in a wide selection of colors.
The overall blueprint should coordinate the colors and textures with expectations based on the final look. This translates into confirming the specifics beforehand. There is no specific order to the upgrades so let your budget and time dictate the schedule.
The following two tabs change content below.
Lizzie Weakley
My name is Lizzie Weakley, and I am a freelance writer from Columbus, Ohio. I went to college at The Ohio State University where I studied communications. I enjoy the outdoors and long walks in the park with my 3-year-old husky, Snowball.
Latest posts by Lizzie Weakley (see all)