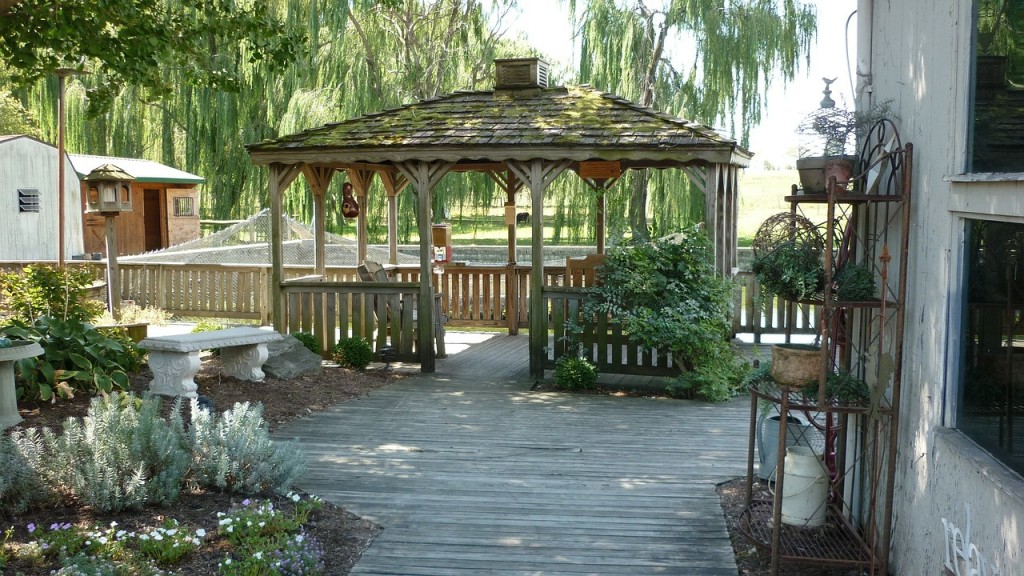 Even the most elaborate home can be improved by renovating some aspects inside or out.
This is especially true for weather changes that come with the seasons, and there are various renovations that can be made to prepare for summer. Making changes to the house indoors and outside can greatly enhance your experiences during warmer months.
Take a look at just a few of the ways you can make renovations really shine around the home this summer season.
Backyard makeover
Having a newly designed backyard space is one of the best ways to prepare your home for the summer.
You don't need a large space to get the most out of the outer yard. Consider having your lawn professionally planted to have lush grass for picnics or sunbathing.
Landscaping is also a great way to prepare the yard for this time of year as it adds aesthetic appeal and organization. Landscapers can add simple shrubbery, fountains, flowers, borders or trails to completely change the appearance of the backyard.
A gazebo creates a quaint space to enjoy the outdoors without direct sunlight, and adding a fire pit provides a place to relax with guests during evening get-togethers.
Sunproofing
Sunproofing the home is an important way to prepare for the heat waves of summer. Areas where people are likely to relax can be covered with eaves or overhangs to provide necessary shade while enjoying the outdoors.
Yard screens not only help relieve you of the sun's rays, but they also provide protection from insects that are common in warmer weather. Parasols can be placed above tables to add shade when hosting celebrations in the yard.
Building a covered porch offers shaded space to relax in the front of the home.
Pool upgrades
If you have a pool, it is likely to be used many times over the summer. Upgrade your pool to give your home experiences more excitement in the summer. Most pool pumps use more energy than the combination of all appliances in the home, but upgraded pumps can run at low speeds while still offering clean water and long filtration.
A UV disinfection system also helps keep the pool clean while needing lower levels of chlorine. It can lower chlorine levels to the same level as drinking water, so this will help those with sensitivity avoid irritated skin and red eyes.
Nighttime swimming is only comfortable during warmer seasons, so get all the time you can by installing LED lights. These lights are brighter, stronger and easier on the environment.
Window treatments
Windows treatments or window coverings can come in many varieties, and they offer aesthetic appeal, as well as the ability to keep out excess heat from the sun.
Consider adding treatments in rooms that may only have simple curtains or blinds. If you want more functional windows, motorized curtains can quickly control how much light and heat you allow into a room. You can also have new windows installed or changed into bay windows to enjoy more of the summer sun without going outside.
Energy-efficient flooring
Renovating the floors of the home can make a significant change in how heat enters and leaves the building in the summer. The material from which your floors are made can determine how they store and release heat, and ideal floors store heat well in the winter without retaining it in the summer.
Using this type of flooring will naturally make the home more comfortable during extreme temperatures, and this will help reduce energy usage. This renovation benefits the environment while also saving you money on energy bills.
It only takes a small change to prepare your home for summer. Some people prefer to make changes to avoid the heat, but others can create ways to improve their time soaking up the sun.
Image from Pixabay
The following two tabs change content below.
Meghan Belnap
Meghan Belnap is a freelance writer who enjoys spending time with her family. She also enjoys being in the outdoors and exploring new opportunities whenever they arise as well as researching new topics to expand her horizons. You can often find her buried in a good book or out looking for an adventure.
Latest posts by Meghan Belnap (see all)