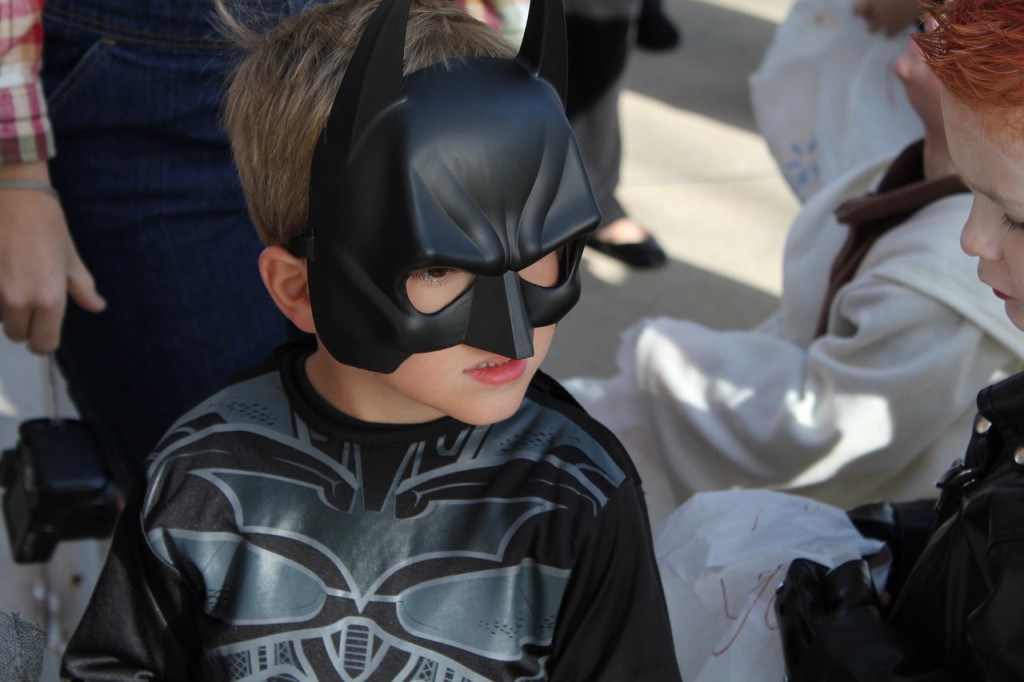 If you have been reading a lot of popular parenting and craft magazines, you've probably discovered that kids' costumes are not just for Halloween anymore. Not only are homemade costumes fun for holidays and other parties, but kids love to play in them.
Luckily, you don't have to spend a fortune to create costumes your little ones will love. Most of the stuff you need to make you may already have in your craft supplies.
Here are a few ideas to get your creative wheels turning and have fun playing dress up with the kids again.
Superhero
Dressing up like a superhero is a childhood favorite. Whether it is for a boy or girl, all it takes is a homemade cape and a few accessories to save the world from all its villains.
Depending on how tall your children are, measure out a length of material that will reach from their shoulder to their waist. If the cape is too wide, you can always take it in a little. You can sew or use hem tape all around the perimeter to finish the edges.
Using string to tie a cape around your child's neck can be a safety hazard. Instead, sew hook and loop patches on the corners. You can use fabric paint to paint on an iconic logo, or let your children make up their own hero.
Under the sea
Does your little girl dream of being a mermaid princess? Bring her imagination to life with a DIY mermaid tail.
While there are probably a lot of elaborate ideas for making them, you can make one that is beautiful, simple, and does not even require sewing.
Pick out a yard of iridescent fabric in her favorite color and some coordinating tulle. About 6 inches above the bottom of the material, gather it into a fan and tie it tightly with yarn or string. Take the tulle and fold it up into a fan and tie up the end.
Using a glue gun, fan out the tulle and glue it to the opposite side of the fan at the bottom of the fabric. Put hook and loop patches on the top corners so it will go around your child like an apron. She will have an instant mermaid tail and will still be able to walk safely.
If swimming in her tail is something your child wants to try, you can also check out options from Shimmer tail which make dressing up and getting wet something you can do every day.
Mr. Roboto
Nothing beats a few cardboard boxes to pique a child's imagination. If your kids enjoy the world of sci-fi, you can easily make a robot costume from a medium-size box. A lot of stores will even give you boxes for free if they are getting rid of them.
Make sure the box is large enough to reach from your children's neck to waist. Cut the bottom flaps out and cut a hole in the top that is large enough to go over their heads comfortably. Spray paint the box silver and let it dry.
You can let the children decorate their costume with colorful buttons and paint to make it look like something from the space age. Let them have fun exploring space in their new costume.
Children have rich imaginations that can be fostered by creative parents. Designing homemade costumes is also a great way of spending family time. With a little time and effort, your kids can be anything they imagine.
Image from Pixabay
The following two tabs change content below.
Brooke Chaplan
I am a freelance writer and blogger. I love to hike, bike, run and write. I live in Los Lunas, NM and have a cactus collection.
Latest posts by Brooke Chaplan (see all)