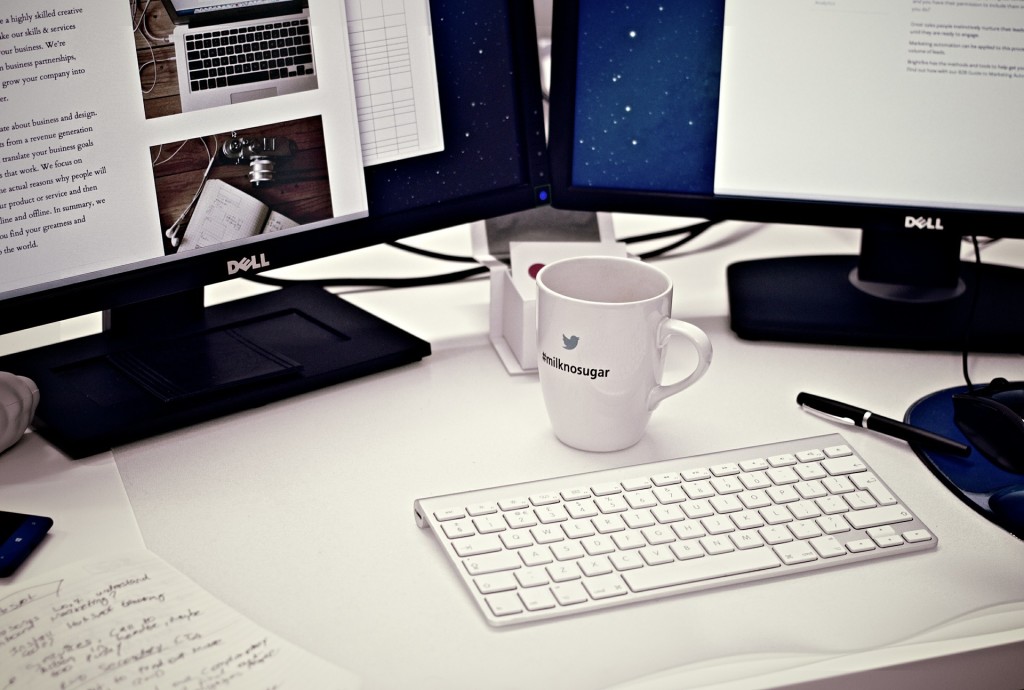 For some people, working from home sounds like a dream.
If you can't stand lengthy commutes and hate being micromanaged, you may love the luxury of being able to sleep in an extra hour and work without someone looking over your shoulder.
For some, it gets really difficult. When home and work are the same place, this can throw off your balance a little bit. You're surrounded by distractions. Your game system is in the next room, and you have delicious leftovers in your fridge. Focusing can get difficult at times.
It's all about having the tools to overcome temptation and be able to separate work time from personal time.
Have a remote work buddy
If you work from home for a specific firm, keep in touch with other people who do the same thing. If you're an independent freelancer and you're the only one providing remote services for that company, find someone else who does something similar to what you do.
Consider forming a synergistic virtual relationship with another person who works from home. It can keep you accountable.
Keep a work journal
If you feel like you're working forever and not getting anything done, it helps to look at everything you've accomplished throughout the day. Try journaling a brief summary on an hourly basis. How much work have you done in that hour? You may find it's not as much as it seems.
You're a little more comfortable at home, and that comfort may cause you to work slower. Keeping a record will motivate you and help you make the most out of an at-home work day.
Get out of the house
Take your computer with you. If you have a list of things you want to do around the house and they're bothering you because you're there, that can be a quite a hindrance.
You want to empty the dishwasher. You know it's done, and the dishes are sitting in there. You don't need that creating an interruption that can lead to a series of distractions. If you're unloading the dishwasher, you may feel inclined to mop the kitchen while you're in there.
Take your computer to the park or local café. The change of scenery will shift your priorities based on what you can do with what's around you.
Have a no-pajamas policy
This will keep you from getting too comfortable. If you get out of bed, drink your coffee, eat your breakfast, and sit down to work, it may feel like a morning routine. No one reads the newspaper like their life depends on it, and your morning work may get a similar treatment.
Get out of your pajamas and into real clothes when it's time for your day to start.
Work with a colleague
Do you have any real-life friends or colleagues who also do remote work? Maybe a friend or relative who is taking online college courses, or needs to study? Share space with them.
Whether you're at their place or yours, having other people working around you makes a casual space feel more like a working environment.
Be the employee and the boss
If you mess up, who is going to discipline you? When you're going off track, mindlessly snacking or watching YouTube videos in another tab, no one is there to give you a slap on the wrist. Though it does require a lot of willpower and motivation, you'll need to be able to slap yourself on the wrist.
You'll also need to reward yourself when you've done something good:
Deprive yourself of your favorite TV show until you're proud of what you've accomplished for the day.
If you've been chatting on Facebook with your friends for 20 minutes while you should have been working, push yourself to work 40 minutes to overcompensate. You'll feel more inclined to do what you need to do, in the specific amount of time you've allotted to do that in.
Not everyone is cut out to work at home, and it may take some adjustment. Once you find that balance, you may never want to go back to a traditional working environment.
Retraining yourself is key. Remain dedicated, and allow yourself to feel empowered by your career successes.
The following two tabs change content below.
With a background in Business Administration and Management, Tess Pajaron currently works at
Open Colleges
, Australia's leading online educator. She likes to cover stories in careers and marketing.
Latest posts by Tess Pajaron (see all)