Parents who work are phenomenal beings. Who else would be able to take on two full-time jobs? That said, juggling your career with bringing up your kids isn't easily done, and working life can soon take over (much to yours and your family's dismay).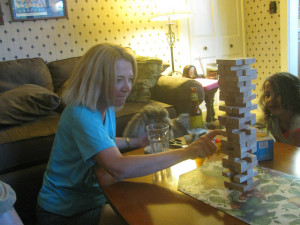 It can feel as if there aren't hours in the day for both.
The suggestions below, however, will help you achieve that valuable work-life balance, and find those hours that have been so elusive till now.
Apply them and enjoy.
Talk to your employer
Employers aren't just the hand that feeds you, they're human beings, too. They understand that you have other responsibilities such as children. That doesn't mean you can miss work whenever you feel like it, simply because you couldn't find a babysitter.
You can, however, mention that you're a parent and discuss possible solutions that fit in with your other responsibilities. For instance, some jobs involve using the telephone a lot, such as receptionist jobs, and are split into morning or afternoon shifts, leaving time to take the kids to or home from school.
Others offer flexible working hours and options to work from home, making it easier to manage your career and your home life.
Build a support network
It's no secret that parenting is a tough job, but you don't have to do it alone. Speak to your family, friends and neighbors, and see who is available at different times of the day.
Maybe they can pick up the kids on the way back from work, or babysit during certain hours of the day, leaving you to work. They might even be able to take care of errands that you can't do while the kids are around.
Grab that all-important me time
Being a mom, you're busy taking care of the husband and the kids, and running the household, but don't forget to look after that other important person: you. Set aside some time for you alone to grab some peace and quiet.
It can be a relaxing bath, some time to meditate or even to just scribble some thoughts down in a diary. Whatever it is, let no one take it away from you.
Set aside time for the family
Just as you should have your me time, you should also have your family time. Make a certain evening or day for you and the family—and stick to it. Work is a commitment, but so is running a happy family. There may be times when you can't stop the two colliding, but make these few and far between.
This time is to relax with the family, not work yourself up over a spreadsheet!
Avoid the distractions
Some things in life are sent to distract us. Skype, email, the radio, the TV, the mobile phone, Facebook … Shut these out whenever you can, especially if you're working from home, and you'll find you can be more productive. In turn, this creates time to do fun stuff.
The more you get done, the less stressed you'll feel, too. Maybe you can meet your partner for lunch, which can break up the day nicely. Of course, don't forget, you should make time for your partner out of working hours, too.
Make life easier
Why make kids packed lunches and choose what they have to wear the same morning that you're running against the clock to dash to work? Prepare these things the night before. And why do all the shopping after you've been in work all day? Get your groceries online and have them delivered to your door.
This will make it easier to enter and leave the rat race.
Working life is hectic, and part of this is the organization of tasks, whether it's making the kids meals or submitting work before the deadline. Organize them right and you can achieve a fine balance, making the term nine till five really mean exactly that.
About the Author:
Karen Cox is a busy mom and small business owner who, as well as these commitments, still finds time to train for marathons.
Image credit: Flickr | edenpictures
The following two tabs change content below.
Latest posts by CMO Contributor (see all)