Working from home allows you to break new ground in terms of productivity and efficiency. You are your own boss, and have the freedom to tackle projects with all your home comforts to hand. However, with distraction only a room away, how do you organize your office and work environment to stay productive?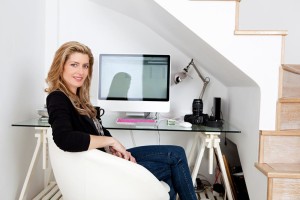 Here are four things you'll need to consider as you begin:
Furniture
As you start to furnish your office, it's very important that you pick a desk and office chair that you can comfortably and effectively work from. If you're a graphic or web designer, you'll need a desk that has adequate space for you to work on drawn and written projects.
Alternatively, if you're a video editor, animator or photographer, you'll require a desk that can accommodate extra technology like second monitors, printers and scanners.
Office retailers like Viking sell a wide variety of computer desks to suit different needs. Even if you're struggling for space and have to incorporate your office into an existing room in the house, you can pick up compact workstations that can hold everything you need.
Layout
Once you've decided on the type of furniture you'll need, it's time to start planning the layout. Get a large sheet of graph paper and start penciling a floor plan of the room. Take into account the space needed for windows, radiators and door openings as you sketch.
You'll want to make sure your desk is close to power outlets and not blocking any sources of light or heat. It's nice to have your desk facing a window where you'll get a lot of natural light. Just make sure that you have blinds or curtains to reduce the glare during the summer, and to cover your valuables from anyone passing by.
Organization
Staying organised when you work from home is harder than you think. It won't be long before you start to wonder where all this paper, stationery and extra equipment will go when it starts to pile up on your desk.
Tall-standing shelves are an excellent way to store and organize your supplies. If floor space is an issue, wall shelves can save you valuable space and draw attention to higher parts of the room. This will make it feel larger and less cluttered than it was previously.
A fantastic way to stay organized is by hanging a noticeboard on a wall that's within view of your desk. Here, you can pin and keep track of your current projects as you work. It'll also do wonders for your productivity, especially if you're easily tempted by home comforts.
Decoration
The final step involves adding a bit of color to your office. A lot of people abide by a minimalistic style for their workspace. That's fine, but you can inject some much-needed energy by painting a wall in a light shade of green, orange or yellow.
You can also give your office character by adding a few quirky desk gadgets and plants. Bonsai can be the perfect finishing touch to your base of operations.
About the Author:
Jenica Miller is a freelance writer who has already written on topics ranging from productivity, home and health, business and technology. As a home-based freelancer, she can attest to the comfort, usefulness and durability of Viking computer desks.
The following two tabs change content below.
Latest posts by CMO Contributor (see all)