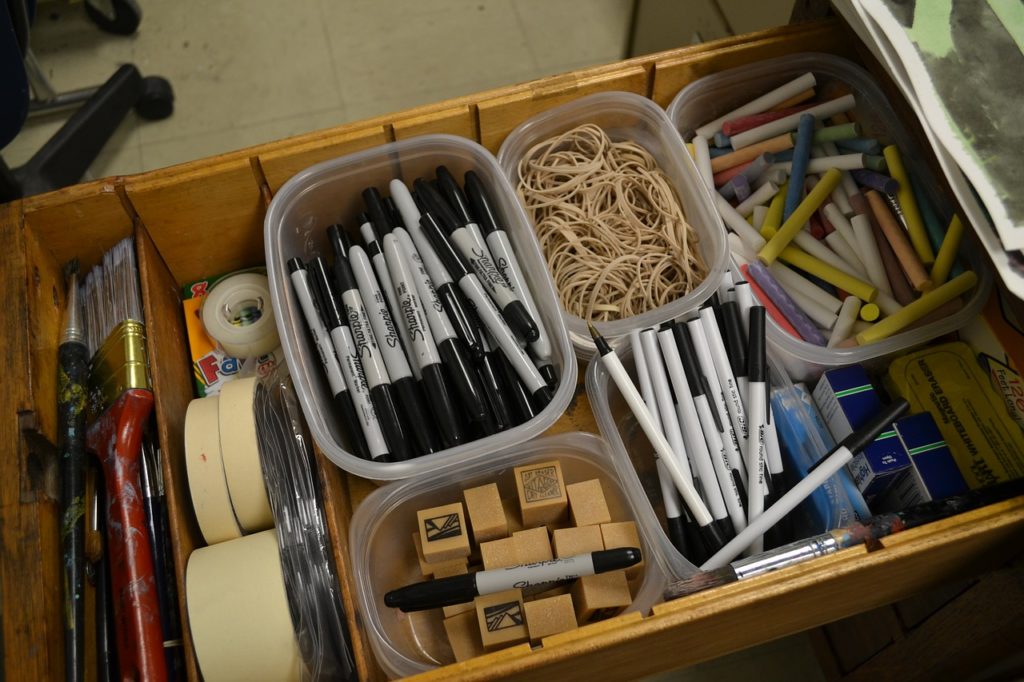 No matter how small of a space you have, it does not have to be cluttered. And an organized space does not have to look unattractive and dull.
There are ways you can both organize the clutter, while still adding your own unique personality and charm.
Style up the storage bins
If you have a "junk closet" that tends to gather unnecessary messes, then try organizing it with attractive bins and containers. You can use your own style and color-coordinate the storage containers.
Chances are if the organized closet looks cute, you will actually want to leave it open and will enjoy putting things where they belong because it looks attractive. Most importantly, you will be adding your special charm to the house while keeping your closets organized.
Use uncommon areas for storage
Get creative with your storage space. You can utilize uncommon areas to maximize storage space. Try using hooks over the closet doors. Or hang shoe racks on the back of your closet door.
Every bit of wasted space is just another opportunity to organize your home. It can be both useful and charming. By using small storage containers on the backs of cabinets or doors, you can organize the small items that tend to get strewn around the house.
Organize and style the drawers
If you have drawers that are just collecting junk, try compartmentalizing the space into sections. Use organizers that break up the drawers and organize the items according to their use, size, or color.
Get creative. Small organizers like Lovely Jewelry Organizers can help you customize space to meet your storage needs. Try adding a padded liner which looks attractive and keeps the drawer clean and the items in it easier to find.
Use storage seating
Keep a small, organized seating nook in your house to put seasonal items, extra dishes or appliances. The additional seating serves two purposes. It can come in handy when entertaining a crowd, yet can fold up to uncover much needed storage space.
Create a stylish command center
If you have an empty wall, create a family "command center" that keeps you on schedule and organized. These command centers can have a calendar, to-do list, chalkboard, and key holder – whatever helps your family remember important dates and events.
Customize your command center to match your own style and needs. If you have kids, then use this space to have a landing pad for their backpacks during school.
Use unique pieces
When you can make your décor and storage into one, you can save on space and keep the home from looking too dull. For example, in the bedroom, consider a unique jewelry box from Lovely Jewelry Organizers to sit on your dresser.
This is a great way to keep small jewelry from cluttering your dresser or nightstand, and it can be used as a decoration in your home. For kids bedrooms, consider shadow boxes that display their sports medals and pictures all in one place.
No matter how small of a space you have, you can make it look both attractive and organized. Get started today with these simple ideas. Having dedicated places for everything in the home makes for an organized, charming, and stylish home.
Image from Pixabay
The following two tabs change content below.
Anita Ginsburg
Anita is a freelance writer from Denver, CO. She writes about family, home, health and finance. A mother of two, she enjoys traveling with her family when she isn't writing.
Latest posts by Anita Ginsburg (see all)