One of the best ways for a business owner to keep their employees happy is to make them feel more comfortable within the work place. Any business owner can also tell you that happy employees are typically more productive as well.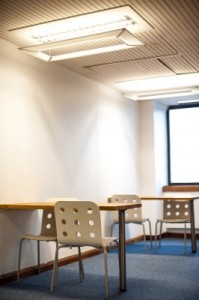 Here are five tips that can be used in order to make your employees more comfortable within the work place.
Give your employees some room
Nobody wants to work in an area that is cramped. Your employees need to have some space and need room to move around. They should be able to get up and walk a little if they need to rather than feeling like they are trapped in a box.
If your employees have the room to move around, they will be happier in their work space.
Do not freeze or cook out your employees
One great way to keep your employees comfortable is with the temperature of a room. You do not want to have a work place that is too hot or too cold. They are not likely to be too motivated to work if they are freezing cold but will not be able to concentrate if they are too hot.
In order for your employees to be comfortable, they should be in a room that is at a comfortable temperature.
Give just the right lighting
Whenever possible you should try to give your employees as much natural light as possible. Having a window in each of your employee's cubicles or offices is a great way to give them light as well as to give them the feeling that they are in an area that is more open.
It is not likely that you will be able to give all of your employees a window, so for those that do not have a window, it is important to have lighting that is pleasant. Harsh florescent lighting can be hard on a person's eyes, so if you can put in some light bulbs that are lower wattage, it can be a little easier on the eyes.
Keep it casual
Keep the office as casual as possible. Allow the employees to have casual days, such as casual Fridays, allowing them to dress down a bit. You could also take a look at the furniture within the office to ensure that it is casual as well.
Keep the pests away
One of the last things that any employee wants to deal with is bugs. Use professional pest control services in order to ensure that your office space is pest-free.
About the Author:
Annette Hazard is a freelance writer and small business owner. She used D-Bug Pest Control in Monroeville to make her home and office more comfortable.
The following two tabs change content below.
Latest posts by CMO Contributor (see all)