If you're a blogger and you want to take your blog to the next level, you probably already realized by now that hard work doesn't cut it anymore.
There are just so many hours in a day that doing everything on your own (creating smashing blog posts, resource research, social syndication, etc.) can result in a burnt-out blogger out of you pretty fast.
The next thing you realize, you're throwing in the towel, never to be seen in the blogging world ever again.
Now, I'm not saying that you ditch hard work altogether. Hard work still is a staple trait to possess, not just by bloggers but everyone looking to be a success. What I'm saying is times such as ours, working smart brings better returns than pure hard work alone.
Blog Engage – the platform for bloggers
If you haven't already heard of Blog Engage, it's high time you learned what it is. Remember that line, "no man is an island?" Well, yes, that definitely applies to blogging, too.
Successful bloggers from across the world will tell you they won't be where they are today without a community of bloggers behind them. Blog Engage is one such community.
And with Blog Engage, you get to do things like:
Gain traffic, backlinks and exposure for your blog.
Whenever you submit an article to Blog Engage, they automatically are routed to the Upcoming Blogs page where blogger members get to read, vote on them, comment and share.
Once a minimum of 6 votes is reached, the article goes to Published Blogs and shows up on the Blog Engage home page.
When the link to your article lands on the home page, with more than 2,700 members to date, the chances of your article being read, shared and commented on grows considerably.
Network with bloggers in your niche (or in my case, no-niche) and other like-minded individuals.
If you're new but serious about blogging, there's no better place to start learning the ropes than Blog Engage. Here, you learn the real stuff from real bloggers who've seen and experienced real blogging from then till now.
If you've got questions, all you need to do is ask. (I had to point that out because new bloggers are generally shy.) There will always be somebody who would take time to give you an answer, or at least point you to the right place.
This is one of the many things I enjoy about Blog Engage. Through Blog Engage, I got to know great bloggers such as the likes of
Holly Jahangiri
, Hajra Khatoon, Jena Isle, Enstine Muki, Sally Brown, among so many others.
Plus, you just might find yourself being noticed by top bloggers like Ileane Smith of Basic Blog Tips, Brian Hawkins of Hot Blog Tips, Hesham Zebida of Famous Bloggers, and Kiesha Easley of We Blog Better if you're planning on guest posting for big blogs to boost your credibility, authority and exposure.
Indeed, in the blogging world, credibility and authority speaks volumes.
Guest post and showcase your talent, hence, building your authority. 
It's been said time and time again, guest blogging can do wonders for your blog or business. (Believe me, there's a reason why guest blogging is encouraged.) Aside from backlinks in exchange for an epic post you've written, you get traffic, exposure and brand visibility.
Blog Engage can be your first base if you want to experience and find out for yourself what guest blogging is really about.
Fatten your wallet a bit.
Yup, you heard that one right. You can bring in some money with Blog Engage, too. Brian Belfitt, Blog Engage's founder and owner, holds guest blogging contests every once in a while.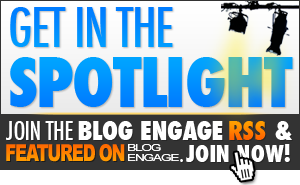 As a matter of fact,
I joined one of those many contests
during the last quarter of last year and bagged second place. Not bad, since second place meant $150 straight to my PayPal account. Oh, and Brian pays pretty fast as well.
For 2012, Abhi Balani of Oddblogger earned $750 for placing first in three contests. And the ultimate guest blogger for 2012 – drum roll, please – is none other than Justin Germino, the Dragon Blogger, who pocketed $1,000 for that title.
Standard Account vs. RSS Syndication 
Standard Account 
The standard Blog Engage account costs a one-time £19.99. This account comes with the following perks:
Manual Submission: Manually submit your articles or other blogger's articles as long as they haven't been submitted yet.
Adsense Revenue Program: If your blog is running Adsense, the Adsense revenue program is one way to increase your Adsense earnings.
Groups: There are several groups you can join. You may even create your own and invite other members to become part of it, too.
Community Blog: You get access to the community blog where you can comment and guest post.
JustRetweet Credits: JustRetweet, a Twitter application that helps direct traffic to your blog, is a Blog Engage partner. Once your Standard Account is activated, you automatically get 3,000 JustRetweet bonus points.
RSS Syndication 
RSS Syndication is a monthly subscription offered at Blog Engage. The Standard Account doesn't come with this feature. If you've been paying attention (I know the post is longer than usual!), with the Standard Account, you manually submit your links.
But if you subscribe to Blog Engage's RSS Syndication, the moment you publish a blog, they automatically get syndicated through RSS.
This way, you get to focus on things that are more important, like building relationships with other bloggers, and such. The higher the package, the more backlinks and social media exposure you get.
There are 4 RSS Syndication accounts you can choose from: Platinum, Business, Business Plus and Direct to Front Page. Pricing are as follows:
Platinum – £9.99/month
Business – £19.99/month
Business Plus – £29.99/month
Direct to Front Page – £99.99/month
Top bloggers Brian Hawkins of Hot Blog Tips and Hesham Zebida of Famous Bloggers have this to say about Blog Engage's RSS Syndication facility:
"Blog Engage has really opened my eyes as to the real potential of networking and has helped me become a better teacher. Sure, the voting platform is nice but that's a very small part of what Blog Engage has to offer." – Brian Hawkins
"BlogEngage service considered one of the best solutions for me. And, with the Business Plus RSS Syndication I have a peace of mind. My blog authority has increased since I started to use the syndication service." – Hesham Zebida 
Affiliate Lights – Blog Engage's Affiliate Program
Affiliate marketing is one way to earn through blogging. If you think you're too new to make it big in the affiliate marketing arena, remember that in everything (and that includes affiliate marketing), QUALITY beats QUANTITY in a heartbeat.
Even Ana Hoffman of Traffic Generation Café who's a real traffic magnet attests to the fact that huge traffic doesn't necessarily equate to huge affiliate dollars.


Now, if you think affiliate marketing is something you want to try your hands on, Blog Engage's Affiliate Lights is worth checking out. Just by signing up alone, $10 gets automatically credited to your affiliate account.
After which, you are supplied with banners and contextual links with your affiliate code to post on your blog.
If somebody signs up to Blog Engage's RSS Syndication through you, you get 25% commission. Payout for the previous month's sales is done once each month. You have to have a minimum of $50 in your account to cash out.
Conclusion
I think I've given you a pretty much comprehensive overview of what Blog Engage is. If you think it's something worth your time and attention, and something you'd want to reward me for the time and effort I've put piecing this blog post together, click on the link below and get ready for a new Blog Engage-ing experience.
Blog Engage RSS Service
The following two tabs change content below.
Maricel is a regular mom juggling her time between being a mom and her full-time profession as a researcher for a top-notch financial firm. Add blogging and freelancing to the mix, and it's one crazy ride. But somehow she manages to stay sane. Maricel loves to write about various stuff - from technology to personal finance, from social issues to life in general.
Latest posts by Maricel Rivera (see all)