Article writer. Creative writer. Novel writer. Copywriter. Blog writer. Up-and-coming writer. Whatever kind of writer you are, you're one lucky person.
Thanks to the Internet, a floodgate of money-making opportunities has been opened wide for writers. Sure, you can argue that anyone can write. But not everyone can be good at it.
Writing, just like anything of value, has its ebbs and flows, valleys and peaks, successes and failures.
This article will not be discussing the glory days of writing. Instead, we will be tackling the challenges faced by most writers and what can be done to conquer them.
Common Barriers to Writing and How to Overcome Them
1. Procrastination
Time and again, it's been said, procrastination is the mother of failure. If that came out like a whack to the solar plexus, don't be too hard on yourself. You're not alone.
A lot of people procrastinate at various points in their lives and to some degree. Some even procrastinate to the point of disrupting their careers and the fulfillment of their dreams.
While procrastination does sound like a powerful force, really, it all boils down to self-discipline. If you can't be bothered to get things done, you're going nowhere.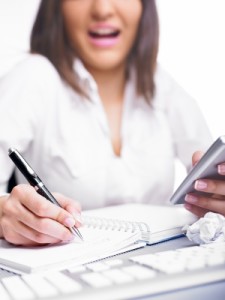 So next time you're tempted to laze around instead of write, print out the words "DO IT NOW, PROCRASTINATE TOMORROW" in solid ink and post it where you're likely to see it day in and day out.
And then set a writing deadline: TODAY. If you're writing an e-book, of course, you don't have to finish the whole book today, but you can write a paragraph or two today.
2. Not enough time
A lot of people believe life isn't fair. But timewise, we all get the same share – 24 hours. No more, no less.
There are things that are important, and there are those that are urgent. Generally speaking, the word "urgent" triggers some kind of an effect that propels a person to stop whatever he's doing and rush to do what is urgent instead.
Do you do the same for those that you consider important?
If you're serious about writing and decide that it's important to you, making room for it in that limited 24-hour ration you've got is a must. And once you find the best time of the day to write, decide to write a little everyday.
3. Being too self-critical
If you're an employer seeking to get things done ASAP, who will you hire? The able but unavailable? Or the available and trainable?
The same analogy can, at one point or another, apply to writers. Putting off writing until you feel you're able is one step towards failure. Being aware of your limitations is a good thing. But dwelling too much on your imperfections is not.
If I waited for perfection, I would never write a word. – Margaret Atwood
Self-negativism is like a boulder tied to your neck while swimming upstream. It will drag you down and kill your spirit in the process. Nobody's perfect, remember?
So the moment you feel like your writing skills are less than perfect, remember that Stephen King's "Carrie" was resurrected from the trash bin to become the hit that it is now.
Just do it, so Nike says, and you just might swoosh your way to infinity and beyond.
4. Writer's block
A lot has been said about writer's block, which doesn't come as a surprise. No writer is immune to writer's block, not even J.K. Rowling.
But if she never managed to get past the block, it's obvious, this worldwide phenomenon known as "Harry Potter" would never be as huge.
One effective strategy to employ when confronted with the dreaded writer's block is to keep on writing. The writing may sound stale, pointless, boring, lifeless or purposeless. But the point is, like a runner bent out of shape has to get out in the field to train his body to run, so should a writer train and constantly train his brain to write.
If this doesn't work and you're trying to beat a deadline, try taking a nap. A catnap might reset your brain to full writer mode.
Conclusion
Commitment despite the hard work is what spells the difference between a hobby and a career. If you want to make a career out of writing, roll your sleeves up and be prepared to dig.
Oh, you're going to have to dig with a pen – the literal and the virtual kind.
Happy writing!
Image courtesy of adamr / FreeDigitalPhotos.net
The following two tabs change content below.
Maricel is a regular mom juggling her time between being a mom and her full-time profession as a researcher for a top-notch financial firm. Add blogging and freelancing to the mix, and it's one crazy ride. But somehow she manages to stay sane. Maricel loves to write about various stuff - from technology to personal finance, from social issues to life in general.
Latest posts by Maricel Rivera (see all)