Last week, Wednesday it was, I had the chance to watch Wall Street: Money Never Sleeps on DVD starring Michael Douglas and Shia LaBeouf. I had no expectations whatsoever; I just wanted to see what it had to convey.
The movie started with Gordon Gekko, played by Michael Douglas, being released from prison after eight years of being locked up for securities fraud, racketeering, money laundering and insider trading. He was hoping somebody would meet him outside the prison gate, but nobody did.
Seven years later, Jake Moore, Shia's character, was dating Gordon's estranged daughter, Winnie, played by Carey Mulligan, who wanted nothing to do with his father, especially after her brother's demise.
Rudy committed suicide because of his father's illicit dealings.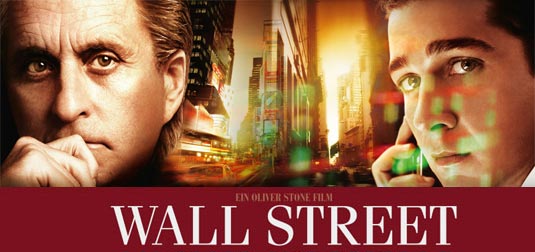 Despite this, Jake was still fascinated by Gordon and was desperate to meet the man. Jake took his chance at Fordham University right after a lecture Gordon conducted and introduced himself as the guy about to marry Gordon's daughter. That got Gordon's attention.
From then on, the two forged some sort of a partnership and agreed on a "trading" where Jake would have to make attempts to get father and daughter together in exchange for information on Bretton James, played by Josh Brolin (same guy who played Jonah Hex opposite Megan Fox) the chief villain who was responsible for the suicide of Frank Zabel, Jake's mentor.
Gordon seemed so convincing in his desire to reconnect with his daughter who according to him was "the only thing he had left" that as the movie unfolded, I got shell-shocked by his blatant attempt to redeem himself at the expense of his daughter's feelings.
Well, considering his hotshot status prior to his incarceration and the fact that his former Wall Street cohorts were still raking in wads and wads of cash, it was probably something he needed to do to preserve his sanity. (Or maybe I'm just being too kind.)
Then again, as Winnie would emphatically blurt out, "He's not who you think he is!"
Gordon ran away with Winnie's money, $100 million in all, which was intended for a fusion energy company Jake was so passionate about. For Jake, that started a rough ride that snowballed into a series of others.
Some memorable quotes from the movie:
It's not about the money. It's the game between people.
The mother of all evil is speculation.
Stop telling lies about me, and I'll stop telling the truth about you.
Bulls make money. Bears make money. Pigs? They get slaughtered.
Every thief has an excuse.
You know what they say? Parents are the bone on which children sharpen their teeth.
Good day, I'm okay. Bad day, I'm okay. Stop bugging me on my feelings. They're irrevelant.
Idealism kills every ideal.
One thing I learned in jail is that money is not the prime asset in life. Time is.
If it weren't for people who took risks, where would we be in this world?
My rating of the movie? Loved it.
The following two tabs change content below.
Maricel is a regular mom juggling her time between being a mom and her full-time profession as a researcher for a top-notch financial firm. Add blogging and freelancing to the mix, and it's one crazy ride. But somehow she manages to stay sane. Maricel loves to write about various stuff - from technology to personal finance, from social issues to life in general.
Latest posts by Maricel Rivera (see all)