Are you thinking of overhauling your kitchen and bath? Make sure you get your money's worth with these seven must-have features that turn a kitchen into a chef-worthy entertaining hub.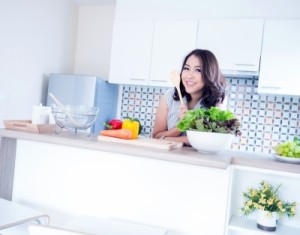 Create the golden triangle
Solid kitchen design is based on the "golden triangle." For easy food prep, your cooktop, refrigerator and sink should be no more than two steps away from one another in a triangular formation.
Double oven
A wall-mounted, double oven is a must for cooking large meals and entertaining. Not only can you cook two things at once, but one oven can also be used to keep a dish warm while another cooks. Wall ovens are also easier to take liquid, heavy and delicate dishes in and out of.
Island cook tops
Island cook tops are not just for cooking shows. Taking your cooktop away from the wall opens up your cooking space. Your prep area is larger, family members can access the rest of the kitchen without bothering you and it is easier to create the "golden triangle." Island cooktops also use a downdraft ventilation system that eliminates the need for a range hood.
Smart sinks
Think about your largest pots and pans. Your main sink should be wide and deep enough to easily clean those pans. Add a pot-filling faucet to make filling your huge pots a breeze. Also consider adding a small prep sink near your cooktop to minimize how often you have to jump between work stations.
Storage is power
A chef-quality kitchen demands the best kitchen cabinets Oakville has to offer, but the buck does not stop with quality. Storage solutions like pan lid drawers, vertical storage slats for pans, pull-out spice cabinets and drop-down shelf extensions take the guesswork out of storage.
Put your pantry to work
If you do not have the space for a walk-in pantry or have cooking essentials you want to keep in the main kitchen, make sure your pantry has pull-out drawers. No more digging through cabinets or reaching into the very back for an item.
Add a garbage station
A combination garbage/recycling station is a popular kitchen must. The station can take the form of either pull-out or tilt-out bins for easy disposal. If you compost, consider adding a special bin for kitchen scraps, too.
Cooking is a lot more fun when your kitchen works for you. These upgrades will set you on your way to cooking star-quality meals with no stress or fuss.
About the Author:
Karleia is a freelance blogger. She enjoys spending her time fixing up her home, including her kitchen and bath.
Image credit: Vichaya Kiatying-Angsulee | FreeDigitalPhotos.net
The following two tabs change content below.
Latest posts by CMO Contributor (see all)