Imagine for a second that you're holding an M24308 in your hand.
A what?!
The first time I saw this letter-number combination, I thought, "A password?" Turns out, the M24308 is not a password, nor sibling to the M-16, but a D-subminiature, or a D-sub, an electrical connector.
Now, don't get intimidated by the name because really, if you've, at any point in your life, used a PC or connected a peripheral device to a PC, you'll know exactly what I'm talking about. And just so we cut to the chase and spare me the trouble of having to explain any further, here's an image of a D-sub: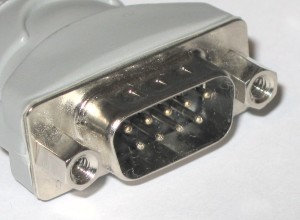 And if you want further illustrations, here's Positronic, a site that carries D-subs and other forms of connector solutions.
Now that we're on the same page, once again, picture that little connector in the palm of your hand. Lifeless little thing, yes, and if you have no immediate use for it, your first reaction is to probably keep it in a secure little place where you'll find it when you need it, or shove it under the bed with other stuff you haven't seen in a while.
The power of connections
The need to connect is part and parcel of humankind. Even those who choose to be solitary, disconnected from the rest of the world, their homes, their families and friends, find themselves communing with forces outside of themselves – the air, the sun, the leaves, the bees perhaps?
If we take the time to think about it, without a connection, business or otherwise, what exactly are we? And why, if I may ask, does social media continue to thrive, prompting brands to get out there and attempt to take a piece of the pie?
The D-sub, connections and social media
A D-sub is indispensable when connecting a printer to a PC, unless you've gone wireless. Still, even wireless would have to be wired to a source via Bluetooth, Wi-Fi, or some other form of technology, or a connection won't be established. Similarly, social media is a powerful force that can propel your brand and mine to great heights, if properly implemented.
Having said all of that, perhaps the two questions that we need to ask ourselves every once in a while are:
How are my connections going?
Am I connected at all?
Much has already been said about the merits of using G+, Facebook, Twitter, LinkedIn and other social networks for establishing connections and brand awareness. Sure, you have a profile in every social platform available. Or on a more personal level, you've got the phone numbers of your relatives and friends saved in your fancy phone book. But how are the connections going? Are you connected at all?
Remember, connection is a two-way street. Otherwise, it's not going to work the way it should.
Conclusion
Once more, picture that little connector sitting pretty in your palm. This time around, forget that it's a physical connector with rows of pins and sockets. Imagine that that connector is social media or your phone book teeming with names and numbers from the people waiting for you to say hello. What are you going to do about it? Will you use it now? Keep it for future use? Or shove it under the bed?
There, of course, is no right or wrong answer. But more important than the answer is what you intend to do if the answer doesn't at all sound satisfactory to you.
The following two tabs change content below.
Maricel is a regular mom juggling her time between being a mom and her full-time profession as a researcher for a top-notch financial firm. Add blogging and freelancing to the mix, and it's one crazy ride. But somehow she manages to stay sane. Maricel loves to write about various stuff - from technology to personal finance, from social issues to life in general.
Latest posts by Maricel Rivera (see all)