The best way to learn is by doing. Doing entails action, not inaction.
I've been blogging for about a year now. And a few months back, my daughter, a twelve-year old high school sophomore, started her own blog, too.
With my permission, of course.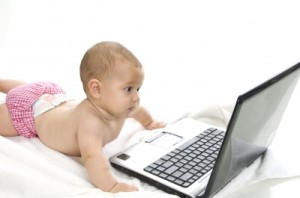 If your eyebrows hitched up a bit (or considerably) at the revelation, I'm not blaming you. Indeed, what was I thinking, eh?
When it comes to our children, their safety is of paramount importance. And that means online or offline. While it's true that online safety in children is something parents feel strongly about, prohibiting our children from blogging (if blogging is something they really want to pursue) may not be wise.
Further reading: What Children Should Know About Money
The Internet is part of the world they live in, and with the Internet, they are better able to explore the world around them and the world oceans away.
Blogging has long been accepted as part and parcel of the Internet, and teaching our children the right blogging principles is a much more plausible solution than banning it altogether.
The benefits
If you haven't taken the time to really think about it, here are some aspects blogging may help improve in your child:
1. Writing skills.
Practice makes perfect. Blogging for an audience enhances a child's writing voice.
2. Communication skills.
Through active interaction with readers (might just be grandma or grandpa), your child learns that online communication should not at all be different from face-to-face conversation, meaning, he has to be respectful at all times.
3. Research skills.
My daughter likes to snap shots of anything around and outside the house. Later, she would enhance the photographs using a photo editor.
Through research, she's able to better compare different photo editing applications, what works and what doesn't. In one of her blog posts, she talks about the do's and don'ts of photo enhancement based on her own experience.
4. Social skills.
With blogging, being the buzz among a lot of kids nowadays, your child gets to discuss blogging in general with like-minded children. Also, by nurturing relationships with children his age who blog about the same things he does, (i.e., hobbies, computers, music, etc.) he develops a more profound appreciation for the things that interests him.
5. Computer skills.
With blogging, your child learns ways to effectively use the Internet, which sort of reading material is valuable, how to monitor their activity online, even the time they spend researching and creating blog posts.
Limitations to set
For the above benefits to come to fruition, below are some points About.com recommends you discuss with your child:
1. Blogging and online rules.
Depending on what you and your child agree on, rules may include your child not using his full name, no mentioning of your address or easily identifiable places nearby, no uploading of personal photos and so on.
2. E-mail, passwords and privacy.
There are child-friendly blogging services where only trusted friends can see your child's blog. But if your child prefers a wider readership and is technically ready (meaning, willing to go through the aspects of a more complicated blogging platform piece by piece), WordPress, Tumblr and Blogger are options to look into.
Plus, it's advisable to have your child use an e-mail address that you can monitor as well.
3. Content screening.
You may preview your child's work before he publishes it online, and if any, discuss possible problems with him.
4. Blog and online activity monitoring.
Monitor your child's blog regularly. Read the content, including the comments. Check the URLs he links to. Monitor his friends' blogs to get a clearer picture of his blogging activity.
5. Blog discussion.
Last but not least, talk to your child about his blog, including the things he's learning socially and technically, and his goals for the blog. Talk about online safety and pointers that can enhance his blogging experience.
Conclusion
Most tweens and teens who want their own blogs set up will find ways to get those blogs up and running whether their parents approve or not. The only way to ensure online safety for your child is to constantly keep communication lines open.
Image courtesy of imagerymajestic / FreeDigitalPhotos.net
The following two tabs change content below.
Maricel is a regular mom juggling her time between being a mom and her full-time profession as a researcher for a top-notch financial firm. Add blogging and freelancing to the mix, and it's one crazy ride. But somehow she manages to stay sane. Maricel loves to write about various stuff - from technology to personal finance, from social issues to life in general.
Latest posts by Maricel Rivera (see all)