When people think of social media, Facebook is what comes to mind. Enter Bitrix24.com, a Facebook-like application exclusively designed for work-related purposes.
Bitrix24, just like Facebook and other popular social media sites, has been created for one sole purpose: ease of communication. Needless to say, for a business, great or small, to survive and win in a cut-throat industry where innovators emerge on top, it is imperative that communication never become a broken link.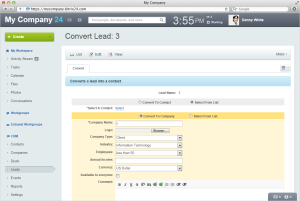 What is Bitrix24?
Bitrix24 is a cloud-based social intranet that allows companies to stay in touch with team members in a convenient, fun and engaging way. Because it is cloud-based, there is no need for installation, and the application can be used anywhere where there's Internet connection. And yes, that includes mobile devices.
Plus, it's free for companies with 12 employees or less.
Bitrix24's Special Features and Functionalities
Internal Social Network
They say a nation is as great as its people. I say a company's as great as the potential of its people. And what better way to unleash that potential than through constant employee engagement and communication? With Bitrix24, employees get to discuss developments as they happen and correct mistakes before they escalate into full-blown catastrophes.
Employees build engaging relationships, and communication lines are kept open 24/7.
One-Stop Workstation
We've probably all been there – keeping several different passwords for different applications, updating different worksheets for this process and that. Even worse, because of all the disparate tools employees utilize, reports generation takes longer than one would care to admit.
This archaic practice requires a lot of employee log hours and doesn't do much for efficiency.
Bitrix24 replaces all of the separate tools you use for correspondence, contacts, projects, tasks, everything. A single platform, and at the end of the day, whatever information you need is right at your fingertips.
CRM
Customer relationship management, or CRM, is a tool that allows businesses to manage their interactions with clients, customers, agents, sales prospects and other contacts. Without CRM or the efficient usage of CRM, most businesses are doomed to die a natural death. With Bitrix24's CRM functionality, contact history, interaction and new events such as messages, phone calls and/or meetings are logged, stored and managed.
Sales Funnel
Sales funnel, commonly referred to as sales process, is another Bitrix24 functionality that serves as graphical representation of the performance of transactions and the stages they are in. And because it's graphical, data interpretation is easier than it's ever been.
Security
Cloud-based data storage is fast becoming the trend nowadays. And when people think about storing, disseminating and managing sensitive data through the cloud, the questions that are oftentimes foremost in their minds are, "How safe is it? Does it really work?"
Bitrix24 employs a seven-layer security system that is perhaps unparalleled in the industry, so that even in unsecured connections such as public Wi-Fi, e-mail and data access is as safe as access on a secure server.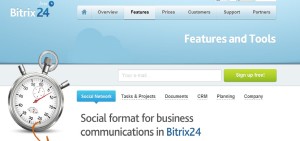 Convinced already? Like, seriously? Believe me, you ain't seen nothing yet. The features I described above are just a few of so many. But don't just take my word for it. Head on to their site now and see for yourself what they've got.
The following two tabs change content below.
Maricel is a regular mom juggling her time between being a mom and her full-time profession as a researcher for a top-notch financial firm. Add blogging and freelancing to the mix, and it's one crazy ride. But somehow she manages to stay sane. Maricel loves to write about various stuff - from technology to personal finance, from social issues to life in general.
Latest posts by Maricel Rivera (see all)