The whole family was at a National Book Store branch yesterday afternoon looking for materials the kids would need for their upcoming school projects when I came upon a book by Eduardo O. Roberto, Jr. – Ang Pera na Hindi Bitin [Money That's Never Short].
I was with my daughter when I found it, and she immediately said, "Go get it, Mama." That I gladly did.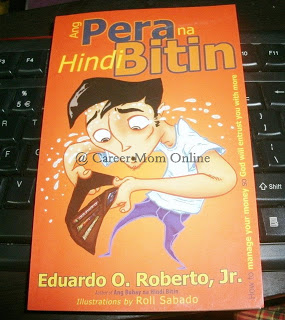 The book tackles money management in a practical and biblically grounded way. Add to that the humorous side to the narrative. What's more, the book only costs 50 pesos and written in Taglish. My twelve-year-old daughter already started reading it, too.
Indeed, it's never too early to start embarking on a journey to financial literacy.
Money is the root of all evil?
Now this book also addresses misconceptions that amassing great fortune is bad and against God's wishes. If you fall under this category of people, I suggest go grab a copy. But if you happen to be one of those guys who believe that being financially free conforms with God's plans, I think you still need to get a copy to reaffirm your belief.
The book, all in all, enumerates seven strategies to ensure that money is never insufficient for one's needs. Best of all, it explains how tithing – giving – can enrich people's lives, not just spiritually but financially as well.
Some quotes from the book that I particularly love:
Ayaw daw nilang makita kaming mag-asawa na parang alipin at hindi magkandaugaga para lang mabayaran ang utang. [They didn't want to see us like slaves scurrying here and there to pay off our debts.]
Do not cosign loans!
Kung ako ang may dala ng kalahating milyon na handbag, eh baka maihi ako sa nerbiyos! [If I were the one sporting a half-million handbag, I might get nervous and pee all over myself!]
Ivar Kamprade, the founder and owner of the Swedish furniture IKEA, still rides the bus and flies economy class.
It is much easier to save money if you live a simple life.
Invest in education and developing the intelligence and wisdom of your family.
Sabi ni [According to] King Solomon: "The rich rules over the poor, and the borrower becomes the lender's slave."
Huwag patayin ang manok na nangingitlog para sa 'yo. [Don't kill the chicken that lays the eggs for you.]
Please don't keep your money under your bed mattress or in an empty biscuit can.
Ang tao na ipon ng ipon, pera niya'y di lilipad na parang ibon! [A person who saves and saves, his money never will fly like a bird!]
So there. If you want to change your financial life, gear up and know what you need to know about money management!
The following two tabs change content below.
Maricel is a regular mom juggling her time between being a mom and her full-time profession as a researcher for a top-notch financial firm. Add blogging and freelancing to the mix, and it's one crazy ride. But somehow she manages to stay sane. Maricel loves to write about various stuff - from technology to personal finance, from social issues to life in general.
Latest posts by Maricel Rivera (see all)