Décor is one of the easiest ways to make your home your own, but over- or under-decorating are easy ways to make your home look cluttered instead of cozy, or cheap instead of chic.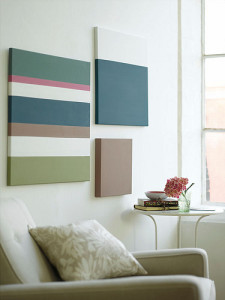 Here are five rules to making the artwork in your home cohesive, artistic, and well-matched.
Size matters
Make sure your artwork fits the space you want it to fill. Large pieces of artwork on small walls make the room look smaller.
Likewise, tiny, spread-out artwork may be missed altogether and can make your walls look bare.
Most art suppliers offer prints in several sizes. Measure your walls and estimate the right size of wall art for the room before you begin shopping. Once you've chosen the perfect size artwork for your space, choose where you'll hang it.
In general, artwork should be hung at a comfortable viewing level for whatever activity the room is most frequently used for.
Keep small and medium pieces at eye level, but hang larger artwork a little lower so that it looks centered on the wall. If the room is usually used for seated social interaction, look at the room from a sitting position when deciding where to place your artwork.
Hang properly
Take the time to properly level your artwork. No matter how expensive or perfectly color-coordinated your artwork is, if it is crooked, it can make your home look cheap and disorganized.
Hang artwork with the appropriate hardware. Using the wrong hooks, nails, or screws could damage your walls and poses a safety hazard to you and your family. If you live in an earthquake zone, be sure to secure larger, heavier pieces of wall art with earthquake hooks.
Make deliberate style choices
In general, it's best to stick to a single style (or even a single artist) in each room. This approach is aesthetically pleasing, no matter how many pieces of art you choose to display.
If you do decide to mix styles, color palettes, or art mediums, consider these unifying factors:
Matched frames can enable you to display a wide range of artwork without the styles clashing.
Carefully chosen mattes will let you display artwork of different sizes in a uniform frame size, which can tie disparate pieces together.
The subject matter of your art can make all the difference. For example, if you're displaying a modernist print and a traditional oil painting next to each other, they will tie in better if they both have a nautical theme or are both portraits.
Remember that you aren't just limited to art that can be hung on your walls. Carefully consider how your hanging art complements any figurines, sculpture, or decorative pottery you are displaying in the room.
Make deliberate style choices based on how well the artwork will pair with your other décor. Don't be afraid to put pieces that don't fit the room in storage until you can find the perfect use for them.
Go for quality over quantity
Be wise when buying artwork for your home, particularly when buying artwork in wholesale quantities. High-quality prints last longer and resist damage from exposure to sunlight and dust better than their low-quality counterparts.
This may mean buying the artwork you plan to use in your home over a longer period of time, but it will also mean that you are less likely to need to return or repair the artwork you choose.
Mix well
You may love the antique cross-stitch saying in a faux-gold frame you bought at an estate sale, but if all the other pieces in the room are sophisticated, abstract designs in dark wood frames, you'll be better off hanging the cross-stitch elsewhere.
For many home interiors, mixing and matching artwork mediums and styles works great. Put together your wall decoration on a flat surface before you hang it to check that the collection matches well. Mirrors pair well with almost any kind of artwork, while vinyl wall art should be treated with a little more discretion.
Following these five rules will ensure that the artwork in your home enhances your personal style and will last until you next redecorate.
Image Source: Flickr | Little Green Paint Company
The following two tabs change content below.
Anica Oaks
A recent college graduate from University of San Francisco, Anica loves dogs, the ocean, and anything outdoor-related. She was raised in a big family, so she's used to putting things to a vote. Also, cartwheels are her specialty.
Latest posts by Anica Oaks (see all)