Freelance writing is not easy, even if you do possess the passion for it.
And the task becomes all the more challenging if distractions are all over the place.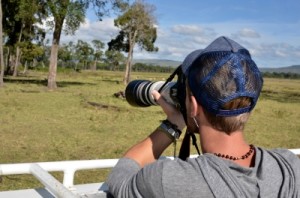 A couple of weeks back, my kids and I were at my mother's place to visit. Last summer, when I asked my eldest if she would like to spend the summer vacation at her grandma's place, the reply was immediate.
No, she'd rather spend it at home because at grandma's, there was no Internet connection.
I was on a deadline
Even if I did know there was no Internet connection, I brought my laptop with me – the workaholic in me striking again, I know. And while everyone was busy with their thing – chatting, watching TV, eating – I went about to get busy with my stuff as well.
I just had to tell my mother and the other folks that I was on a deadline, and that whatever it was they were talking about, I still could hear and understand, albeit faintly, since it wasn't my intention to lock myself up in one of the bedrooms.
Further reading: Pomodoro Technique: How to Get More Things Done in Less Time
I stayed in the same room everyone else was. I went on to say that if there was anything I needed to participate in, all they needed to do was call my attention.
Talk about multi-tasking.
While the deadline was self-imposed, it's just the way I operate. As far as I'm concerned, if I don't follow my schedules, I have no business juggling my time between family, full-time work and freelancing.
No Angry Birds, Auntie?
And because everyone made sure to ignore me, except for the younger kids who wondered why I was typing a lot of letters instead of playing Angry Birds, guess what, I was able to write five 500-word articles in a span of, give or take, four hours.
While that may sound like a lot for some, for others, it still is not remarkable. And that's due to the fact that there was no research necessary. I already knew what I was writing about by heart.
While that wasn't the first time I've ever done such, it was one of those days I remember with a smile on my face.
Become a Productive Freelancer
If you're a freelance writer, here are four things you might want to keep in mind to become more productive:
1. Limited or absolutely no Internet connection.
The fact that there was no Internet at my mother's place helped a whole lot – no Facebook, e-mail, Twitter, no browsing of unrelated stuff which normally led to one or the other.
Those days I had been really productive were those days I made sure to limit my Internet usage to research.
2. Mindset.
Because my goal was to finish those articles that same day, not even the TV or the kids running in circles could distract me.
3. Time management.
Time management is something that I have yet to master, especially whenever I morph into my other persona – the online freelancer.
Plus, given all the roles I have to play, wastage of time is a big no-no. But those times when my time management skills are worth applauding, I always end up with more tasks ticked off the to-do list.
4. Setting.
I normally am more productive in settings that are quiet. And that would mean during times the kids are all in bed when I'm at home. When I'm not at home, that's when my housemates are still in bed or when they've already left to attend to their own businesses for the day.
Going back to the example above, the location I was in was not my ideal location, but because mindset outranks setting in this list, I guess, that says it all.
I recognize this isn't an exhaustive list. But so far, these are the things that work really well for me. Is there anything you'd like to add? Please feel free to leave me a comment.
Image courtesy of africa / FreeDigitalPhotos.net
The following two tabs change content below.
Maricel is a regular mom juggling her time between being a mom and her full-time profession as a researcher for a top-notch financial firm. Add blogging and freelancing to the mix, and it's one crazy ride. But somehow she manages to stay sane. Maricel loves to write about various stuff - from technology to personal finance, from social issues to life in general.
Latest posts by Maricel Rivera (see all)