I was getting ready to go home when my Facebook wall got bombarded with "OMG, he lost!" and "What? He lost!" and "Oh no, Bradley won via split!"
Even without pay-per-view, I knew that the Filipino boxing champ, Manny Pacquiao, had lost a championship belt to undefeated Timothy Bradley.
And then, when I stopped by a fast-food chain for a quick lunch, the guys seated at a table next to mine were also discussing the boxing match, frustration evident in their tones.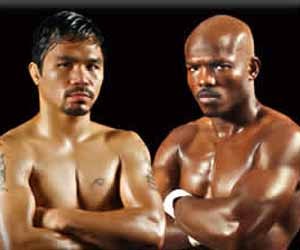 When I boarded a passenger jeepney, the guy in front of me threw a question to no one in particular, "Whatever happened to boxing? Manny beat the crap out of Bradley, and Bradley still won?"
A lot of Filipinos like and admire Manny Pacquiao, and there are some who don't. (Well, you can't please everybody.) But so far, based on the reactions I've seen and read, the Filipino community thinks Manny was robbed of the glory he deserved.
And the outpouring of support is clear testament to the fact that indeed, controversial as he might be, Manny Pacquiao still has legions of Filipino fans behind him through thick and thin.
One Yahoo! comment that particularly struck me was something along these lines, "Now Pacquiao knows how Marquez could have felt when he robbed him of his victory." In reply to this declaration, another commenter said, "The Pacquiao – Marquez fight was a close one and a tough one to call. But this one is never even close."
Another commenter said that the difference between a crybaby and a true champion is that the crybaby goes about ranting on and on about how he was treated unfairly while the true champion accepts defeat gracefully even when he clearly knows he actually won.
This Pacquiao defeat, in my opinion, solidly defined Manny Pacquiao's core values. He was in every sense a true sportsman, refusing to steal the limelight from fellow athletes even when the accolade is not theirs to keep.
Surely, we can all learn something from that.
The following two tabs change content below.
Maricel is a regular mom juggling her time between being a mom and her full-time profession as a researcher for a top-notch financial firm. Add blogging and freelancing to the mix, and it's one crazy ride. But somehow she manages to stay sane. Maricel loves to write about various stuff - from technology to personal finance, from social issues to life in general.
Latest posts by Maricel Rivera (see all)