Parents can teach kids to take charge of their own oral care at young ages. While learning how to brush and floss is a task that requires supervision, there are some things parents can do to help kids keep up with proper dental hygiene on their own.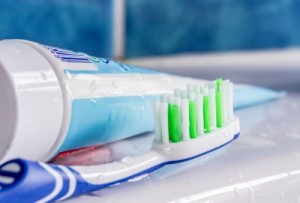 Use a timer
Get kids in the habit of brushing teeth for the recommended two minutes twice daily with a bathroom timer. This may leave them groaning, but it is a good way to visually show how much time is required for a truly clean mouth.
Some manufacturers produce children's toothbrushes that play a song for two minutes while kids brush to make it more fun for them.
Brush with your kids
Research has shown that kids pick up a lot from their parents at very young ages. Give your kids good dental habits by brushing with them. Twice a day, brush your teeth for two full minutes and floss afterward.
Go through the entire routine until it becomes a habit for you as much as your kids. If your children know that you think it's important, they are more likely to want to do it themselves.
Get some flossers
Flossing is an important part of maintaining good dental health. Because anyone can be at risk for gum disease, it's essential to keep up with flossing for prevention, suggests a periodontist. Using dental floss may be time-consuming and difficult for little hands.
Plastic flossers are easier options that help kids floss in a few minutes with ease.
Encourage a teeth-healthy diet
Teach your child that good dental hygiene also comes from a good diet. Be sure to encourage kids to drink plenty of water, which has added fluoride and helps wash acids from the teeth. Tell your kids about acidic foods like soda pop, fruit juice, and sugary foods like candy.
Acids can soften the enamel on the teeth. Kids should wait at least half an hour after eating something acidic before brushing to give the enamel time to harden up again.
Go to a dentist for kids
There are usually pediatric dentists in every town. A children's dentist understands how to work with kids, and knows more about the dental issues kids are prone to. These dentists and periodontists offer kid-friendly environments to keep your child at ease during routine check-ups.
Instill good dental habits in kids before they get older. Brushing and flossing twice daily prevents future problems as the teeth and jaw develop. This habit can also provide a lifetime's worth of good dental health.
About the Author:
Anita is a freelance writer from Denver, CO. She writes about family, home, health and finance. A mother of two, she enjoys traveling with her family when she isn't writing. She suggests visiting a periodontist to help protect your kids' teeth.
Image credit: Grant Cochrane | FreeDigitalPhotos.net
The following two tabs change content below.
Latest posts by CMO Contributor (see all)