If you head a company's Human Resources department, you probably already know how vital your role is, especially for an organization that understands the value of its workforce.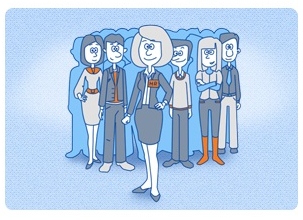 From hiring and on-boarding the right people to providing them with the necessary tools to properly perform their tasks, from tracking their performance metrics to processing their vacation/sick time-off requests, there practically is no shortage of tasks to do.
And if you're still tracking your paperwork manually, you should know that you're not making efficient use of your time.
Generally speaking, repetitive HR requests like vacation and sick leave applications can be summarized in three steps below:
The employee creates a vacation or sick leave request
Depending on the circumstances, the HR manager may approve or reject the request
If the request makes it through the approval process, HR registers the request for tracking purposes
Creating a process workflow for the aforementioned steps using an automation solution that you can rely on is perhaps the best way to free up your calendar and concentrate on more important HR matters. Comindware, a business solutions provider, can help in this arena.
Once your HR solution is in place, whenever a request is made, not only do you get an e-mail notification; you also get a new task in your to-do list. This way, you're sure that no leave/time-off requests gets overlooked or lost in a pile of e-mails.
In the event the approval process isn't yours alone to perform, Comindware Tracker's HR Solution also sends out notifications to the concerned department heads. As well, you have the option to communicate with them through comment threads.
In addition to that, the software already has standardized templates available for common HR workflow such as the one noted above. If changes are required, as is a function of every piece of application Comindware provides, on-the-fly alterations can be made without upsetting the current workflow, and without the use of complicated coding techniques that may leave a design-challenged manager literally scratching his head in frustration.

With the Comindware Tracker HR automation solution, you can do away with the paperwork, the manual tracking and signing or hunting down of an employee whose signature needs to appear on a document. All you need to do is wait for an employee request to come. Once it's in, you're ready to analyze and approve (or reject).
And since everything is automated, the software solution, governed by strict business regulations, does the documentation and reporting for you, and all with just a few simple clicks.
Aside from being web-based, another remarkable thing about Comindware Tracker's HR tracking tool is it can be implemented as a cloud solution, meaning, no need for costly infrastructure and maintenance. Everything will be kept in the cloud.
Oh, and have I already mentioned that if you want to see the solution in action in your own unique environment, you can try the Comindware Tracker HR Solution for 30 days for free?
The following two tabs change content below.
Maricel is a regular mom juggling her time between being a mom and her full-time profession as a researcher for a top-notch financial firm. Add blogging and freelancing to the mix, and it's one crazy ride. But somehow she manages to stay sane. Maricel loves to write about various stuff - from technology to personal finance, from social issues to life in general.
Latest posts by Maricel Rivera (see all)