So he lost. But remember, he's got the fatter purse. Manny Pacquiao may have been out cold after that last-second punch, and much to his wife's utter panic, but he's walking away from it all with at least $23 million.
Okay, so that was intended to appease my disappointment.
Now that I got that out of the way, let me go on and say what I really wanted to say.
It was one hell of a fight. Marquez fans have every reason to rejoice, even those who simply don't like Manny Pacquiao for one reason or another.
But one thing's for sure. There will be no scapegoating this time. It is not in Manny Pacquiao's character to badmouth his opponents. Before the day ends, I expect hundreds, if not thousands, of memes to have graced my Facebook news feed – memes that infuriate, memes intended for comic relief.
Twitter, as expected, has already started branding a good number of Marquez-Pacquiao hash tags.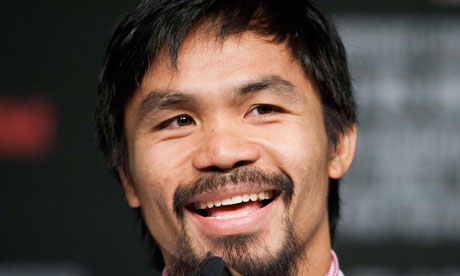 Bob Arum is not discounting the possibility of a fight #5, given, according to him, the excitement brought about by the fight. But Mommy Dionisia, in an interview with GMA 7, is vehemently opposing another rematch.
That is just the nature of the sport. When somebody wins, somebody else loses. Pacquiao may be a great fighter, but he's not invincible. Then again, the heart that he showed everyone in that fight is the heart of a true fighter. What's even better, he gracefully accepted the defeat – the mark of a true champion.
I have wanted Pacquiao to win this match via a TKO, if only to silence Marquez and his camp. Then again, nobody saw this one coming. Well, at least, I didn't. Still, I'm not downplaying the heart Marquez himself manifested. He won this match fair and square.
For whatever it's worth, this is me saying despite the bout's outcome, I remain a Pacquiao fan.
The following two tabs change content below.
Maricel is a regular mom juggling her time between being a mom and her full-time profession as a researcher for a top-notch financial firm. Add blogging and freelancing to the mix, and it's one crazy ride. But somehow she manages to stay sane. Maricel loves to write about various stuff - from technology to personal finance, from social issues to life in general.
Latest posts by Maricel Rivera (see all)