Don't let negativity given to you by the world disempower you. Instead, give to yourself that which empowers you. – Les Brown
Barbara Stanny, daughter of "R" in H&R Block, grew up relying on her father, then her husband to manage her money. But a personal crisis forced her to wake up and look at her relationship with money in a way she had never done before.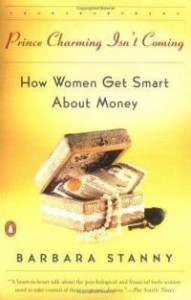 In her book, Prince Charming Isn't Coming (How Women Get Smart About Money), she tackles what, in her interviews with money-savvy women, she believes is the underlying factor why most women, who may be good at saving and budgeting, are prevented from financial mastery.
What society believes in
All over the world, society and tradition had groomed women to rely on men for financial security. This isn't so bad an ideology for women to pursue if situations remain constant, meaning:
their men never change (okay, so maybe just a bit if never is hard to manage)
their men's finances are always in tip-top shape to support women's needs
As we all are aware, times had changed, sooner than we probably have realized. But this belief had somehow remained.
Men and women are the same. We all crave to be loved and cared for. A lot of women hold the subject of managing their own finances at arms' length because of society's perception that women who are money-smart are strong, can take care of themselves and okay to be left alone.
And this is what holds a lot of women back.
The "prince" would more often than not rescue the "damsel in distress" before the other woman who is believed to probably have the same strength as he does.
What you may be doing wrong
And if you're a woman still waiting for the realization of this dream of a Prince Charming – yes, the "prince" who will offer you financial security at your feet – you might actually be waiting in vain. Because really, financial mastery is not something some other person will do for you, but something you alone can do for yourself.
Here are some of the lines I particularly love about the book:
I discovered that I had wings. I knew that with a bit of effort, I could soar like a bird, go wherever I wanted to go, accomplish what I'd never believed was possible.
Prince Charming, in truth, is nothing more than a projection of our disowned selves. He rose out of the ashes of our perceived incompetence, out of our lack of self-trust.
Financial responsibility will give you far more than a bigger bank balance. Financial clarity brings a freedom and peace of mind that no amount of money could ever buy.
Anyone can create wealth without a big wad of cash.
But as a Chinese sage once advised, any crisis can be avoided if we "deal with the big while it is small."
Every single loss I had incurred was the result of my failure to take responsibility for my finances.
When you get into a tight place and everything goes against you, till it seems as though you could not hold on a minute longer, never give up, for that is the time and place the tide will turn.
For one, I understand the benefits of investing for one's future security. I have learned the value of frugality and good spending habits, without which wealth would be impossible. And I have discovered, through their example, the importance of philanthropy to causes that have deep personal meaning, of giving back to a world that has given so much.
In the eye of a crisis or on the brink of old age is THE worst time to play catch-up.
Wealth is not so much what you have. Wealth comes from what you do with what you have. You create wealth by investing, or putting your money into assets that will grow.
How many of us can count on salary increases at that level? Especially when studies show that women's earning power declines significantly as we age.
Happy reading!
The following two tabs change content below.
Maricel is a regular mom juggling her time between being a mom and her full-time profession as a researcher for a top-notch financial firm. Add blogging and freelancing to the mix, and it's one crazy ride. But somehow she manages to stay sane. Maricel loves to write about various stuff - from technology to personal finance, from social issues to life in general.
Latest posts by Maricel Rivera (see all)