Not so long ago, there was this 12-year old kid, fresh from grade school and traveling far from home for the first time. The experience was scary but something she agreed to take on because her own mother assured her it was the right thing to do.
As far as her young mind was concerned, the only thing that anchored her to the place she called home were her colorful paper dolls in her shabby knapsack.
Hours later, whatever she had brought was taken away – her clothes, shoes, her precious paper dolls – all to be given to charity. She was in the brink of crying. But she didn't cry because the other girls went through the same, and nobody was crying.
Or if anybody did, she probably did not see them.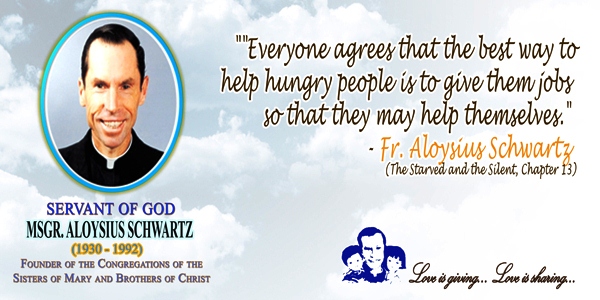 The things the sisters took from her were replaced with brand-new clothes, slippers, running shoes, school stuff – brand-new everything, a brand-new life included, only she wasn't aware of it at that time.
That 12-year old girl happened to be me, and it was the first day of my four fruitful years with the Sisters of Mary School.
Father Al and the Sisters of Mary
The Sisters of Mary is a not-for-profit institution founded by Fr. Aloysius Schwartz, or Fr. Al, as fondly called by the students. It is a school where children from impoverished homes are gathered together to be given the high-quality education their families cannot otherwise afford to give them.
For every year they were in school, they were taught not only scholastic and technical skills, but spiritual skills as well – Fr. Al being a strong believer that even the most ordinary of beings, the poorest of the poor, deserve the right to earn a decent place in society.
If you want to know more about Fr. Al and the Sisters of Mary School, you may visit the following links:
The following two tabs change content below.
Maricel is a regular mom juggling her time between being a mom and her full-time profession as a researcher for a top-notch financial firm. Add blogging and freelancing to the mix, and it's one crazy ride. But somehow she manages to stay sane. Maricel loves to write about various stuff - from technology to personal finance, from social issues to life in general.
Latest posts by Maricel Rivera (see all)